Room to run, climb and play
Something that sets us apart from other child care centres is our space. With two spacious outdoor play areas and oversized indoor studios, your child will have so much room to run, climb, and play. Our oversized sandpit, cubby houses, and gardens, which the children interact with, provide so many opportunities to learn through play. Younger children can venture confidently in their own separate play area.
We're passionate about providing a space that's designed for learning and development, but is still comfortable for your child and feels like a second home.
Diversified education through outdoor experiences
Development of Gross Motor Skills through play-based education
Experiences in line with Australian Early Years Learning Framework

Caring for
Ages 6 weeks to 5 years

Capacity
103 children daily

Approved Kindergarten Program
In line with the Queensland kindergarten learning guideline.
We supply:
Healthy, allergy-friendly lunch and snacks
Nappies
Address
38 Sugarwood Street, Bellbowrie Qld 4070
Hours of care
6.30am to 6.30pm, Monday to Friday
Feel free to drop in anytime to take a tour of our facilities.
We just ask that you let us know you're coming.
Meet Mother Duck Bellbowrie
Mother Duck offers a high standard of care, learning, and growth through our child care centres situated around Brisbane. With a commitment to providing quality education, guided exploration, and a lot of fun in every day, we take a thoughtful, considered approach to the educators we choose to guide your children.
Nearby Centres to Bellbowrie
Mother Duck Enoggera
24.5km
Mother Duck Carindale
37.7km
Welcome to Mother Duck Bellbowrie
Children are resourceful and inquisitive, and our Bellbowrie child care centre is designed to encourage exploration. Children are encouraged to use open-ended resources to create and express themselves. Our community of learners works together to make new discoveries, supported by experienced educators to make sense of the world around them. Our educators really get to know your child and will be sure to share with you the precious moments that happen every day.
An accredited kindergarten program
We're a centre with an accredited kindergarten program. Our separate studio is set in its own building with a separate playground. Specifically designed for four to five-year-olds, this studio allows us to provide age-appropriate education in line with the relevant education guidelines.
Our kindy children work both independently and with their friends to explore learning styles, expand how they think, and equip them with all the skills they need to tackle prep.
Our playground encourages social skills and exploration
An essential part of your child's education is learning through play and by socialising with other children. We have open playgrounds where our kindy kids can meet with their friends or siblings outside of kindy to catch up and play together.
Our spacious outdoor areas offer sandpits, cubby houses, and gardens, with new and different experiences routinely introduced. Think potion making and obstacle courses.
Here's why parents love Mother Duck Child Care Centres
Owner-operated centres for real attention to detail
From centre cleanliness to the development of quality education programs, we're focused on providing quality for your child.
Commitment to Quality Education
We develop learning experiences in line with the Australian Early Years Learning Framework as well as the children's interests.
Play-based early childhood learning
Our team fosters play-based learning through our welcoming play areas, specially designed for children in their early years.
Accredited Kindergarten
We have a separate building for our accredited kindergarten, providing education to children of four to five years old.
Vaccination Policy in Place
Our child care centres and our kindergarten have a vaccination policy in place to guide the children's attendance.
Specialists Committed to Your Child's Success
Our qualified specialists are committed to your child's success. So, we're constantly updating our programs and experiences.
Holistic Learning
Learning is more than literacy and numeracy skills. We offer a diverse learning program incorporating sport, music, and play.
Our Stay & Play Strategy
Whether it's your child's first time in child care or they're moving from another centre, there's going to be an adjustment period as they make that transition. That's why Mother Duck offers Stay & Play Dates for families who've enrolled at our centre.
These allow you to visit the centre with your child, engage with the other children and educators before they start, so that they're comfortable as they settle into a new environment. Read more about 'Stay and Play' dates here.
Our Centre Features
All the amenities, resources, and support your child needs to thrive here in our centre.
At Mother Duck Bellbowrie we value the importance of consistent educators and have made it our mission to maintain a strong team of educators who are the heart and soul of our Mother Duck Bellbowrie family. Most of our team have been with Mother Duck for anywhere from 5-20 years! This level of continuity has enabled us to build strong relationships with our families, children, and community. This is a reflection of the quality of staff, supportive working environment, and sense of community Mother Duck Bellbowrie pride themselves on.

Our Infant Studio at Mother Duck Bellbowrie welcomes 8 babies every day, supported by 2 of our longest serving educators. Our cozy Infant studio provides our children with a safe and secure space, allowing them to build strong relationships with their educators, in what can be their first-time being away from the safety of home and family. The Infant Studio has a separate sleep/rest environment, a dedicated outdoor play space and individual care books for each child to document their day. Being a small studio, our team is always available to chat and we ensure we have a familiar face for the youngest members of our Mother Duck family from 7:30am to 5:30pm every day.

Our Approved Kindergarten program is offered to all children in the year before school. We have created an area for our Kindergarten children to explore, discover and experiment with their ideas in a way that they can spread out, take their time and collaborate with their friends and teachers. We value the importance of the Kindergarten year, and have a dedicated indoor and outdoor space for these children, as well as a separate dining space. Through our environment and specialised curriculum, children are supported to be creative, problem solve and develop the ability to adapt to change. Our highly qualified Kindergarten Team is made up of three educators, two fully qualified Early Childhood Teachers and a Diploma qualified Lead Educator who work together throughout the week. Our Kindergarten Studio includes key languages such as clay, transient art, mark making, home play and construction, all of which support children to build skills essential for success in school and life.

Our service sits on a large block with established leafy trees providing us shade in our back yard. Our outdoor spaces encourage children to explore, discover and learn through nature. Our practices and shady environments create opportunities for children to develop their social, emotional, and physical wellbeing all year round. Through this, children will learn new areas of expertise, develop new relationships, and have a chance to run, play and learn how to care for our natural and constructed environments.

Bellbowrie is a small community and you will find a lot of our educator team live locally. We love the community we live and work in, and are always eager to give back where we can. We work closely with Moggill State School and have contributed to supported many of their events including Mogganza, Under 8s Week and staffing the Mother's Day and Father's Day stalls. We are also aware of and contribute regularly to community events through fundraisers and donations. Events such as these provide opportunities to empower children to share their ideas and views on matters that affect them and participate as active citizens in the community.

As with most of our Mother Duck Centres, Mother Duck Bellbowrie is owned and operated by Miss Cathy. Miss Cathy started at Mother Duck Bellbowrie in 2016 and moved to the area not long after. She lives locally with her family and her children attend Moggill State School. Miss Cathy believes that owning an Early Childhood Centre is more than just a career – it is an opportunity to walk alongside families while their children are young and be a support to them, not only while attending the centre but also as the years pass. It is also an opportunity to mentor and help develop a passion for early childhood education and care in the next generation of educators so our brilliant team of educators are able to have a long and fulfilling career doing the best job in the world!!!
Our Bellbowrie Team
We're proud of our team of educators, meet our Bellbowrie centre's team.
Miss Cathy
Nominated Supervisor & Centre Franchisee
Miss Cathy became the Franchisee of Mother Duck Bellbowrie in July 2016 and has many years of experience working as an early childhood educator. Miss Cathy is dedicated to ensuring that you and your family feel at home at Mother Duck Bellbowrie, as part of our Mother Duck family.
Miss Mel
Educational Leader & Early Childhood Teacher
Miss Mel holds a Bachelor of Education and is committed to creating engaging interactions for children. She uses intentional educator practices to guide children as they learn and make discoveries about the world around them.
Miss Mel's calm and reflective approach helps children grow their confidence. She leads by example, always looking for innovative ways to foster engaging, meaningful play. Miss Mel has nearly twenty years' experience working in early childhood education.
Miss Lara
Nominated Supervisor and Lead Educator
Miss Lara discovered her love for working with the early years four years ago when she began her career at Mother Duck. Miss Lara is currently studying a Diploma in Children's Services and values the opportunities she has had at Mother Duck to develop skills in leadership and management, aspiring to complete one day her Bachelor in Early Childhood. 
Her week is divided between her Nominated Supervisor duties and caring for the infants in the Nursery Studio. Miss Lara has a passion for building relationships with families and children whilst inspiring wonder and joy in their world.
Our team are locals too
Many of our educators live here in Moggill and Bellbowrie and have children who go to the local school, so we all have a vested interest in making our centre the best it can be to support the children and families in our local community.
What Other Parents Have to Say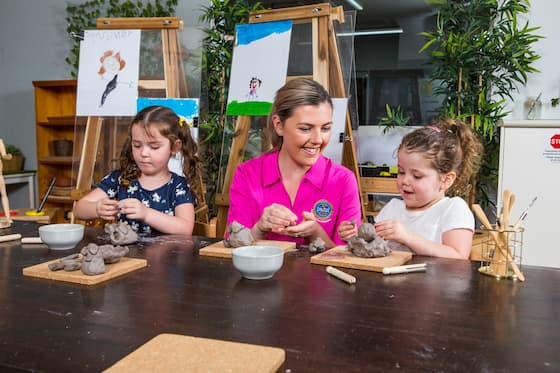 Book a visit
We invite you to visit Mother Duck Bellbowrie to see the centre and meet our team. Drop by any time, we just ask that you let us know you're coming. If no available time slots are suitable, please Get in Touch with us to arrange another time.